Mega Man Classic Deluxe Figure
I believe I first saw this figure or Possible Statue (as I would call it), at GameStop.
It's retail price was $39.99, but I got it for about $15 not including shipping.
This is the Classic Mega Man, which is actually my favorite version.
When I first opened the shipping box and took out the retail box, there was a "Try Me" button on top of the helmet and as soon as I pushed it, the figure started playing music from Mega Man 1 & 2 NES. Being a huge fan of Mega Man I instantly liked the figure even more, even before I had taken it out of the box.
Upon taking it out of the box, I notice a cool detail of some of the robot bosses in the Mega Man game on the box lid which I thought was a nice touch.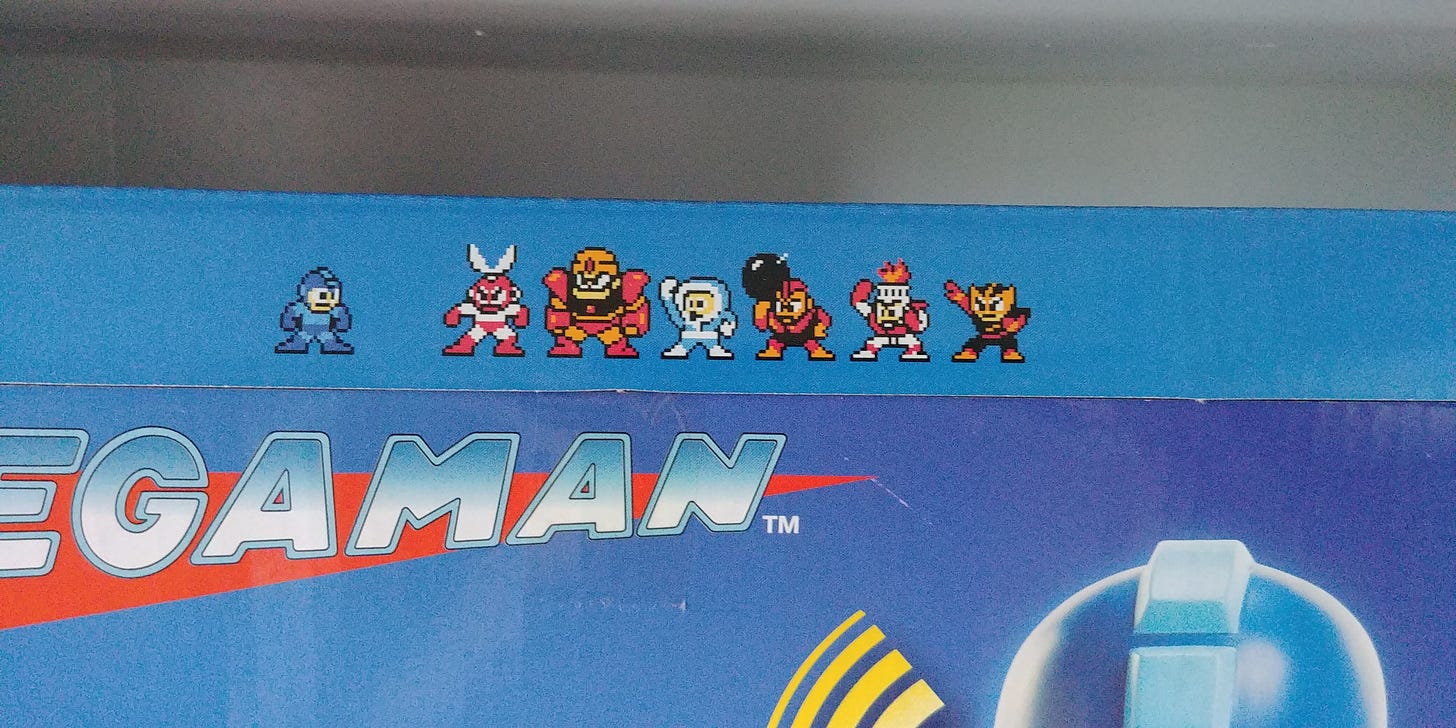 The box says that there is 35+ sounds this figure makes.
When you push the button on the helmet, it plays music from Mega Man 1 & 2 NES games, including one of my favorites, the Mega Man 2 theme song.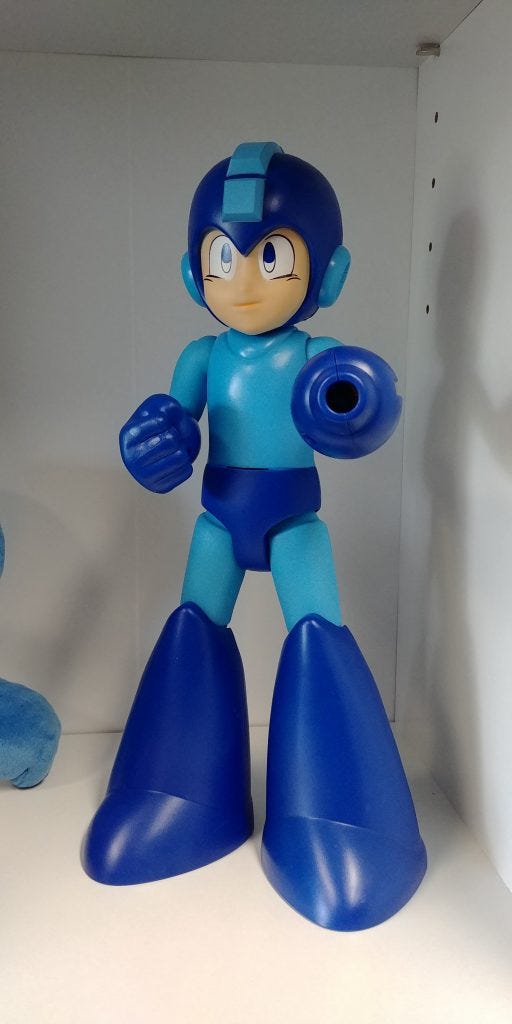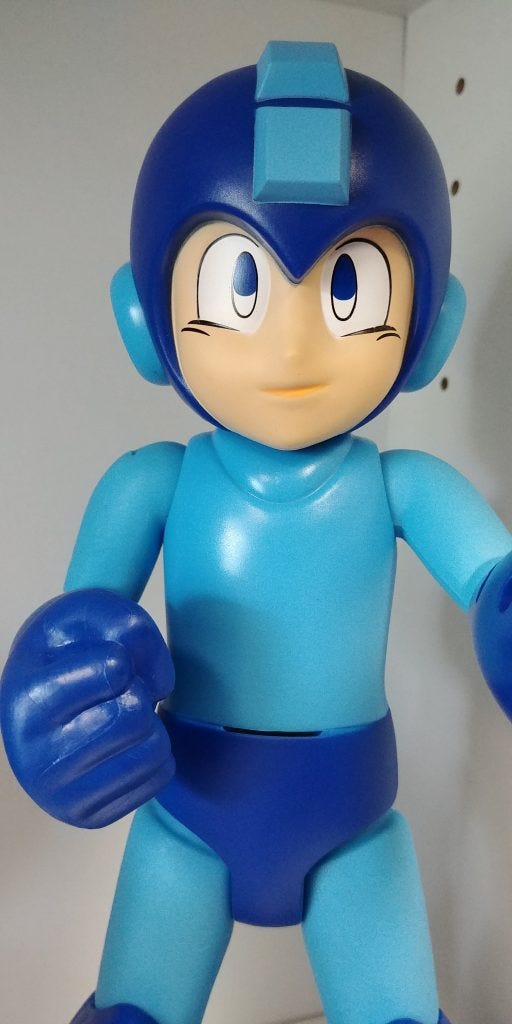 A few sounds this figure makes:
When you press the button on the Buster, it makes the sound of shooting like it does in the game.
If you move his arms he makes various sounds
If you move his legs, he makes a jumping sound
If you knock the figure over backwards, it plays the sound when Mega Man runs out of energy
The figure comes with 3 weapons, Ice Slasher (from Ice Man), Cutter (From Cut Man), and the Guts Bomb (from Guts Man).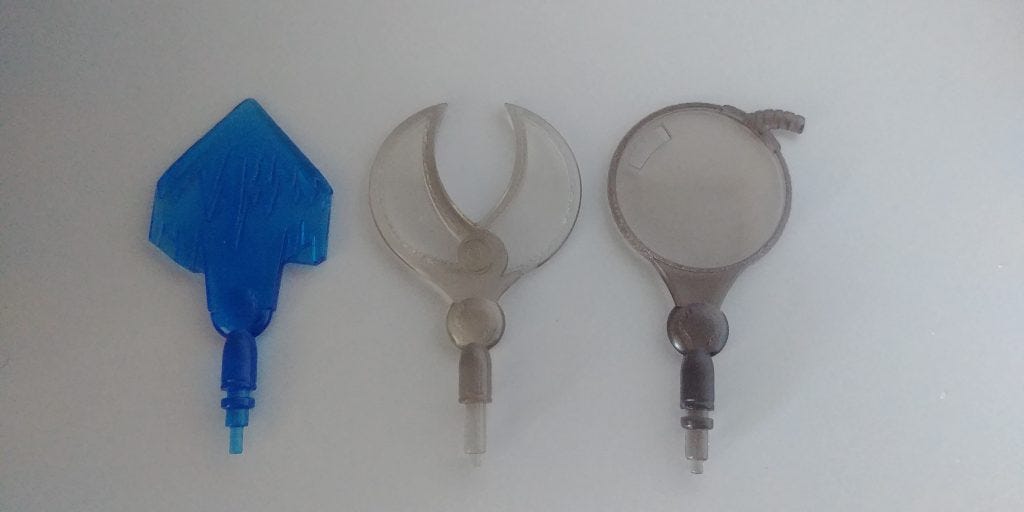 When you plug in one of the weapons it plays the music of that stage and if you press the button on the Buster, it plays the sound it makes in the game when you use that weapon. Also, if you plug in each of the weapons one after another, after removing that 3 weapon, the figure starts playing the Dr. Wily Boss music.
Apart from the sounds this figure makes, it is somewhat really possible and makes a really cool statue to display.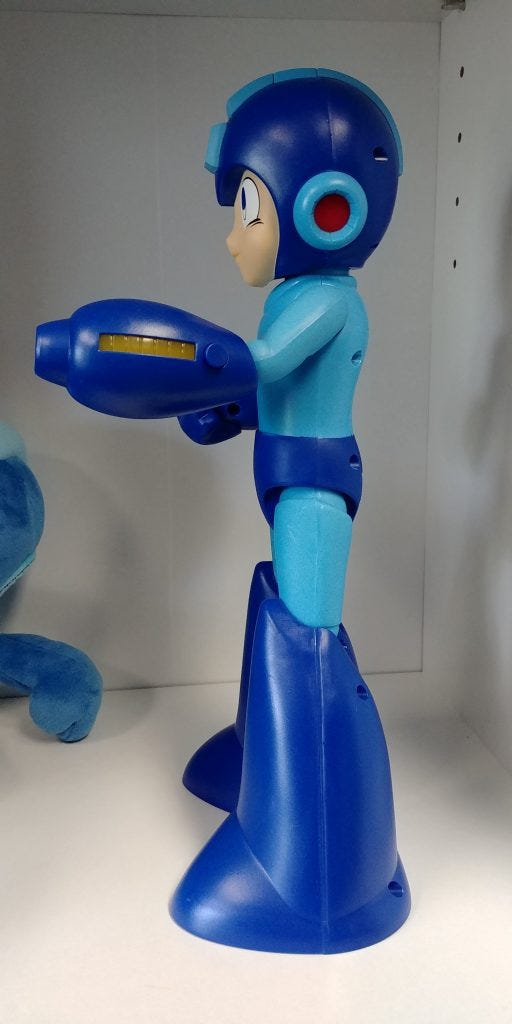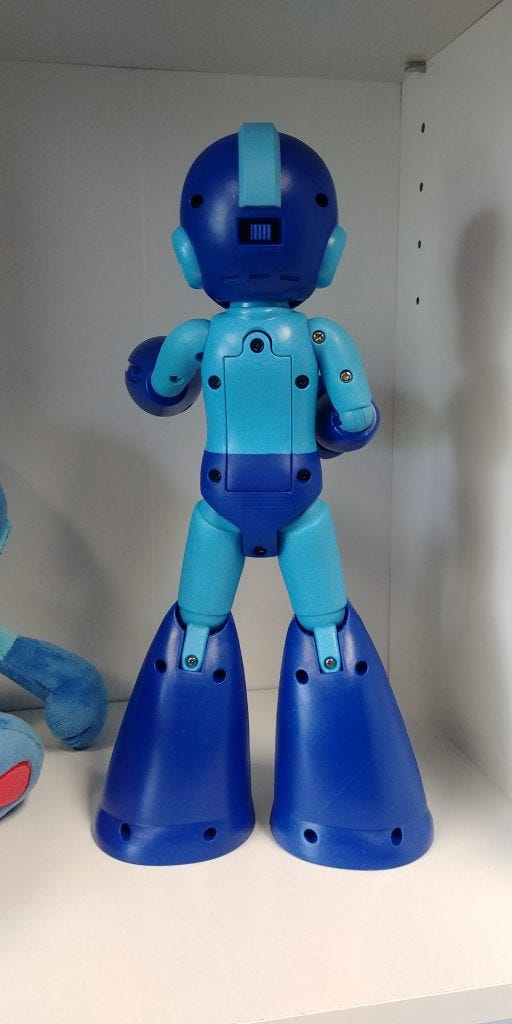 After purchasing this figure, I'm really please with it, although I would't want to pay $40 for it, it more than worth the $15 price tag.
Conclusion
---
I've rated the game in 4 different categories with a maximum score of 8-Bits.
Build Quality – 7 out of 8-Bits
This figure has a very good build quality. But it does have a few minor details that some may or may not like.
Like on the back the screw holes are a loot spread out and are pretty visible. But if this is being displayed on a shelf, the back won't really be seen and you can't see any screw holes from the front.
also, there some minor manufacturing defects that slightly show on my piece of the figure and there is one small gap on the torso which I think is the speaker.
Overall, this figure is really well made. It's not cheaply made. But as I said, these issues don't affect the quality and display of the figure.
Features – 8 out of 8-Bits
For a figure that plays 35+ sounds, it practically makes sounds every time you move it and sometimes it makes sounds when you don't move it.
If this would be an issue for you, having it make sounds almost every time you tough it, there is a switch on the back for Off, On, and Try Me.
Off
Of course meaning that the figure doesn't make any sounds and is just for displaying.
On
Is where you get to try out all the sounds it makes.
Try Me
Is for limited sounds by just pressing the button on the helmet.
Also, like I said, this figure is somewhat possible for moving it's arms and legs.
Display – 8 out of 8-Bits
This figure is a really good size for displaying on a shelf. It's pretty tall. About 12 1/2 inches tall.
The figure is not made of a material that's not too shiny or cheaply made that wouldn't make a good item to display.
Worth the Price – 6 out of 8-Bits
This part is debatable whether it's worth the $40 price tag, but it can now be found for around $15 to $20.
This figure does have a lot of cool features, like making sounds, playing music and making a cool statue for displaying and for $15 to $20 I would say it's completely worth it.
Total Score 7.25 Bits out of 8-Bits
This is a really well made figure and if you like Mega Man, this would be a good item to get.
At the end of all the scores, what really comes down to it is, if you like Mega Man, but don't know whether it's worth it's price, if the only thing you buy this for is to display it. It's fully worth it.
If you want to see more content like this, you can subscribe to posts by email or follow me on social networks at:
Twitter @KyleRansford
Instagram KyleRansford