PowerA Yoshi Nintendo Switch Wired Pro Controller Review
First off, it's a Yoshi Pro Controller!
I mostly wanted this controller because of the character design and because it would be cool to display on a shelf.
There are more to get, like Mario, Donkey Kong & Bowser.
These controllers don't have motion control or rumble.
But for $25 I think it's still a good deal.
These controllers are available at Wal-Mart.
Design
---
This particular design features Yoshi and a Yoshi Egg in the top center of the controller.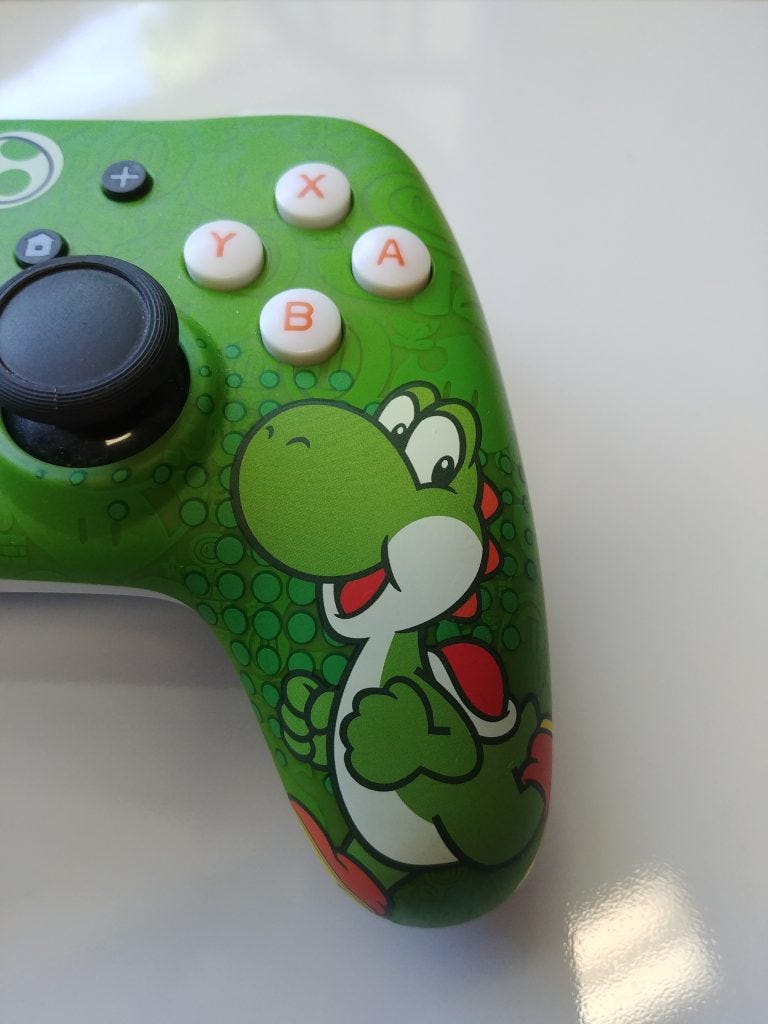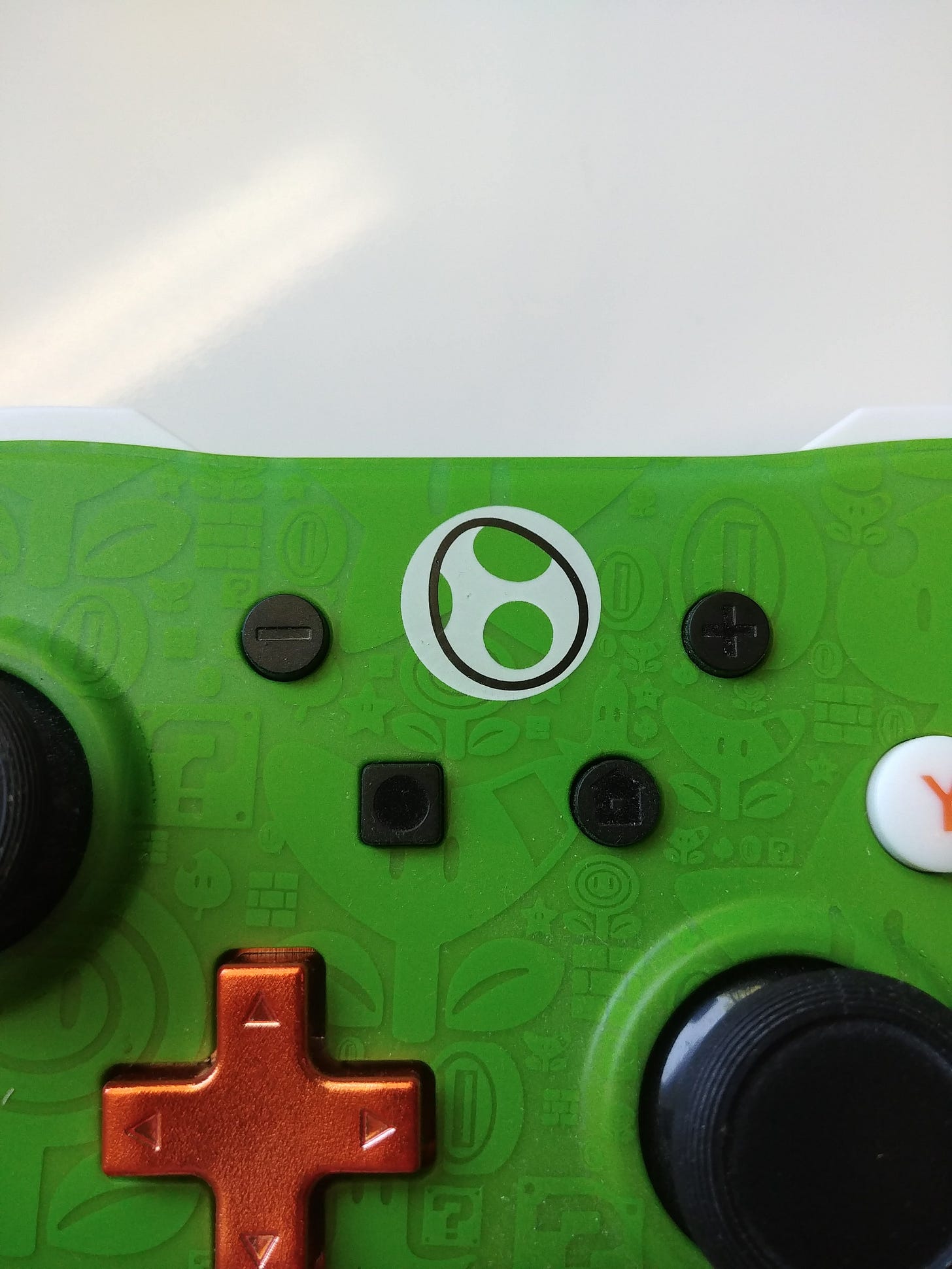 It also has an allover design of various items from Super Mario video games.
This controller also features a Bronze color D-Pad Black, Thumbsticks, Home, Screenshot, Start and Select buttons and the A, B, X, Y, back and bar buttons are white.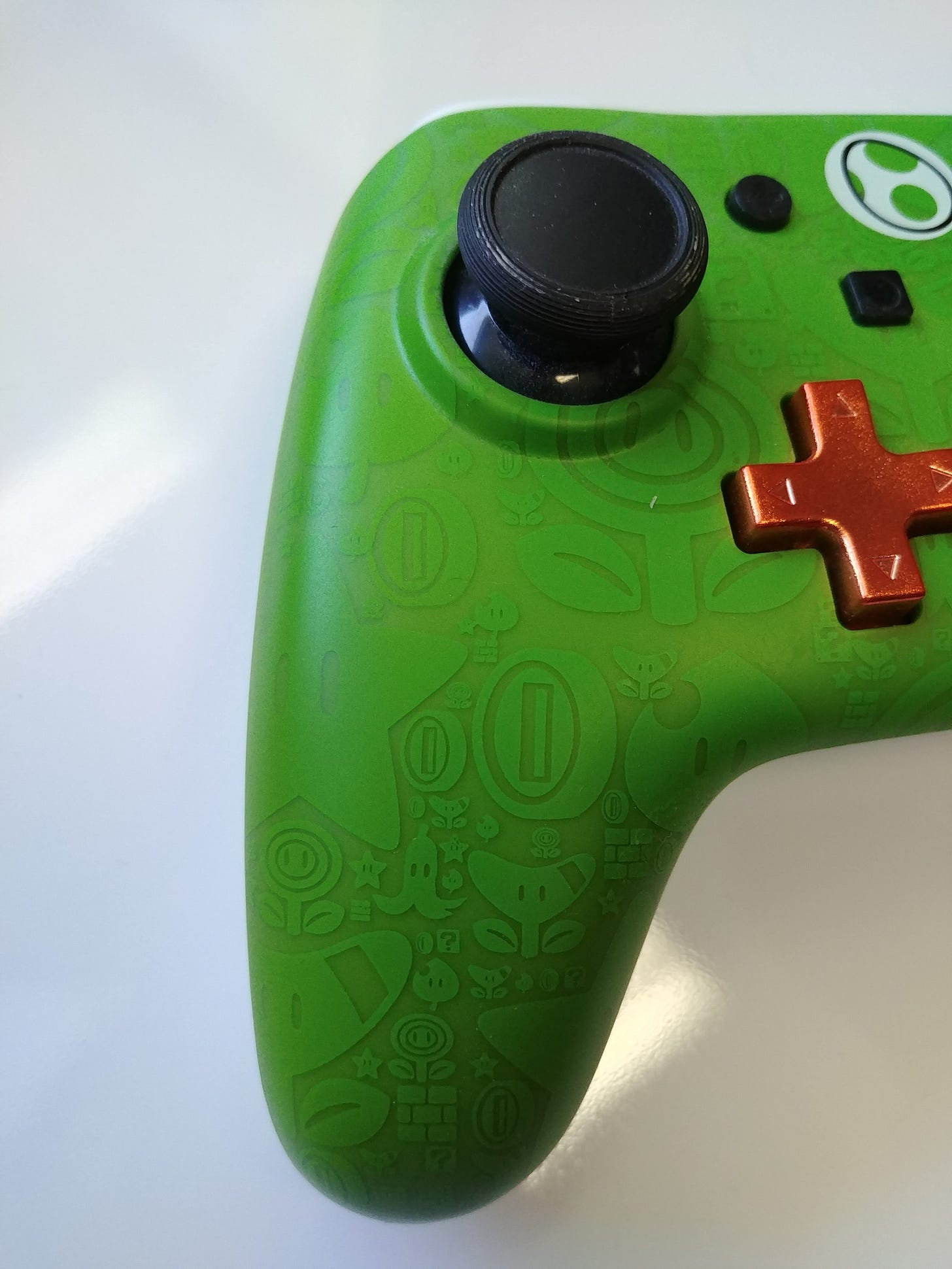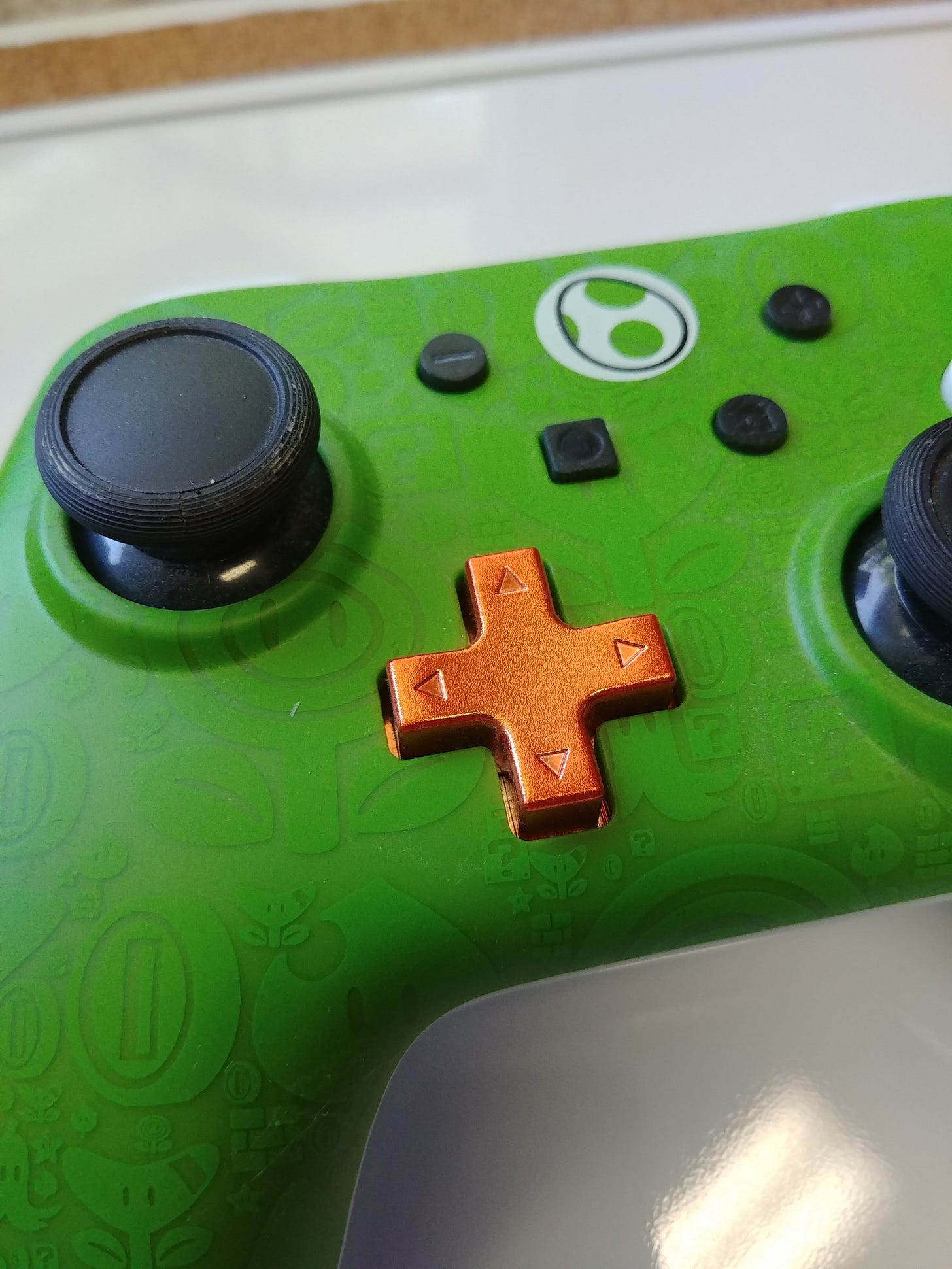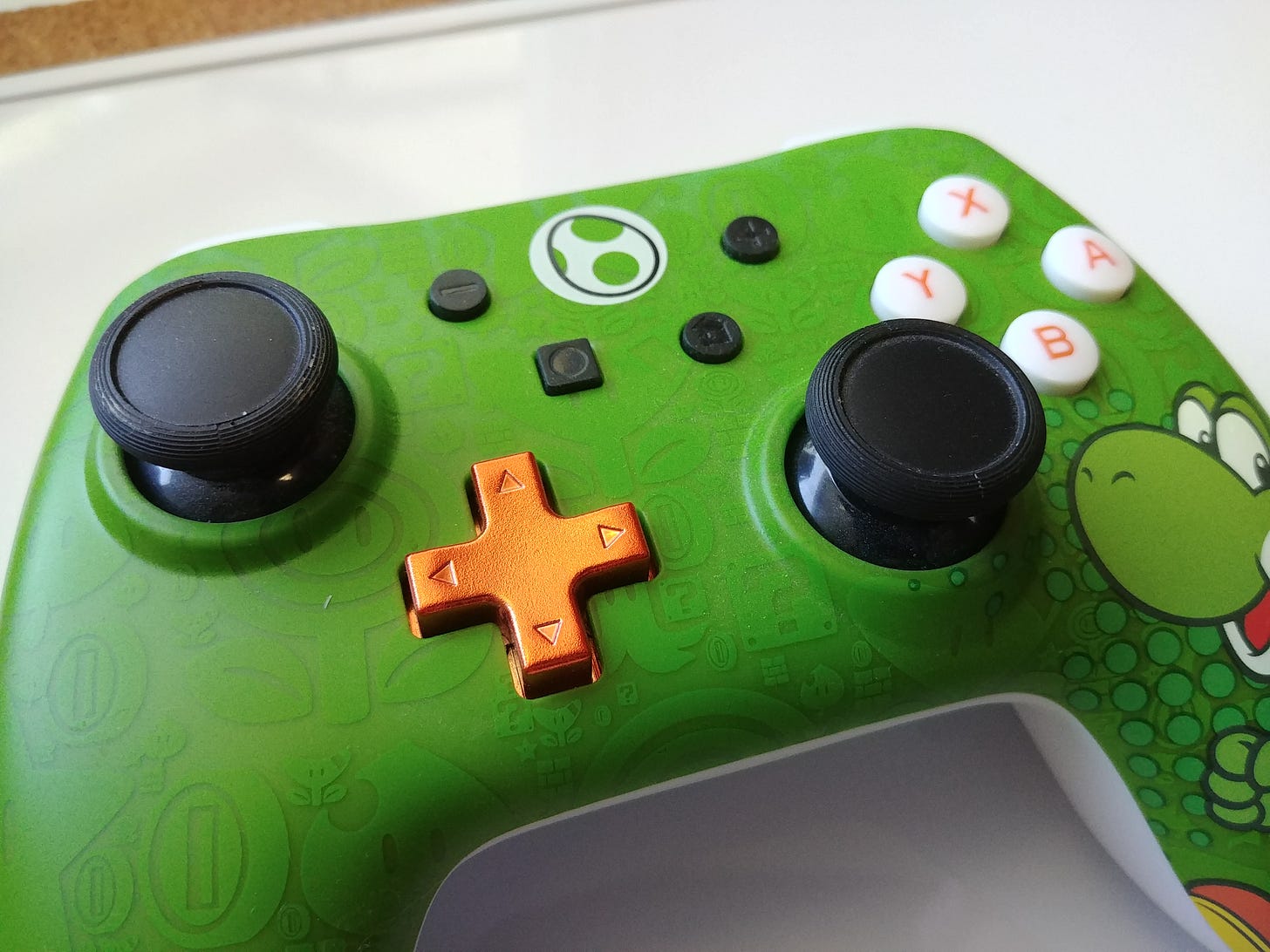 The front image is a matte like finish while the back has a smooth feel and a small texture like feel in the middle.
I think the design on this controller is very good. It's a somewhat flat controller that just fits right while holding it.
Experience
---
In my experience with this controller has actually been really good. As I said, the controller is kinda more "flat" than the average Pro Controller, but handling it is still comfy.
The thumb sticks are a little bigger and flatter than the average Pro Controller as well, but it also still makes it easy to use and control.
The cord on the controller is also detachable, which makes displaying these controllers even more simple and cool.
I can't think of any issues I've had with this controller while playing games.
Conclusion
---
My experience with the controller has been good for it's price point. The only thing is, they don't have motion or rumble. But like I said, for the price point, it's not a big deal.
I would honestly just buy more controllers just to display. But still this makes a good controller for a budget.
I've rated the Pro Controller in 5 different categories with a maximum score of 8-Bits.
Size 8/8 out of 8 Bits
The size of the Pro Controller is big enough to handle but small enough to get a grip.
Design 8/8 out of 8-Bit's
This design features a cool Yoshi design with a cool Super Mario item pattern and can be a cool item to display on a shelf and the detachable cord is a good idea so when being displayed on a shelf, the cord doesn't have to be rolled up behind the controller. It can just be detached.
The flat design and matte finish makes it where you can see the design easily and is not too shiny.
Comfort 8/8 out of 8 Bits
The Pro Controller and buttons are nicely sized to be able to reach the buttons and grip the controller.
Features 8/8 out of 8 Bits
Since the Pro Controller is made without Motion and Rumble, I won't rate it as not having them, but the features of the controllers are good and the cord is removable which makes displaying them easy and cool.
Convenience 8/8 out of 8 Bits
The Pro Controller has a nice long 8 foot USB cable that makes it where you don't have to be real close to the Switch, but probably not for long distance gaming unless you have a different setup with your Switch.
I don't know if you can use other USB cables as an extender or not for this controller.
Total 8 out 8-Bits
I thought this is a nice controller for the price and they make a cool controller to display on a shelf.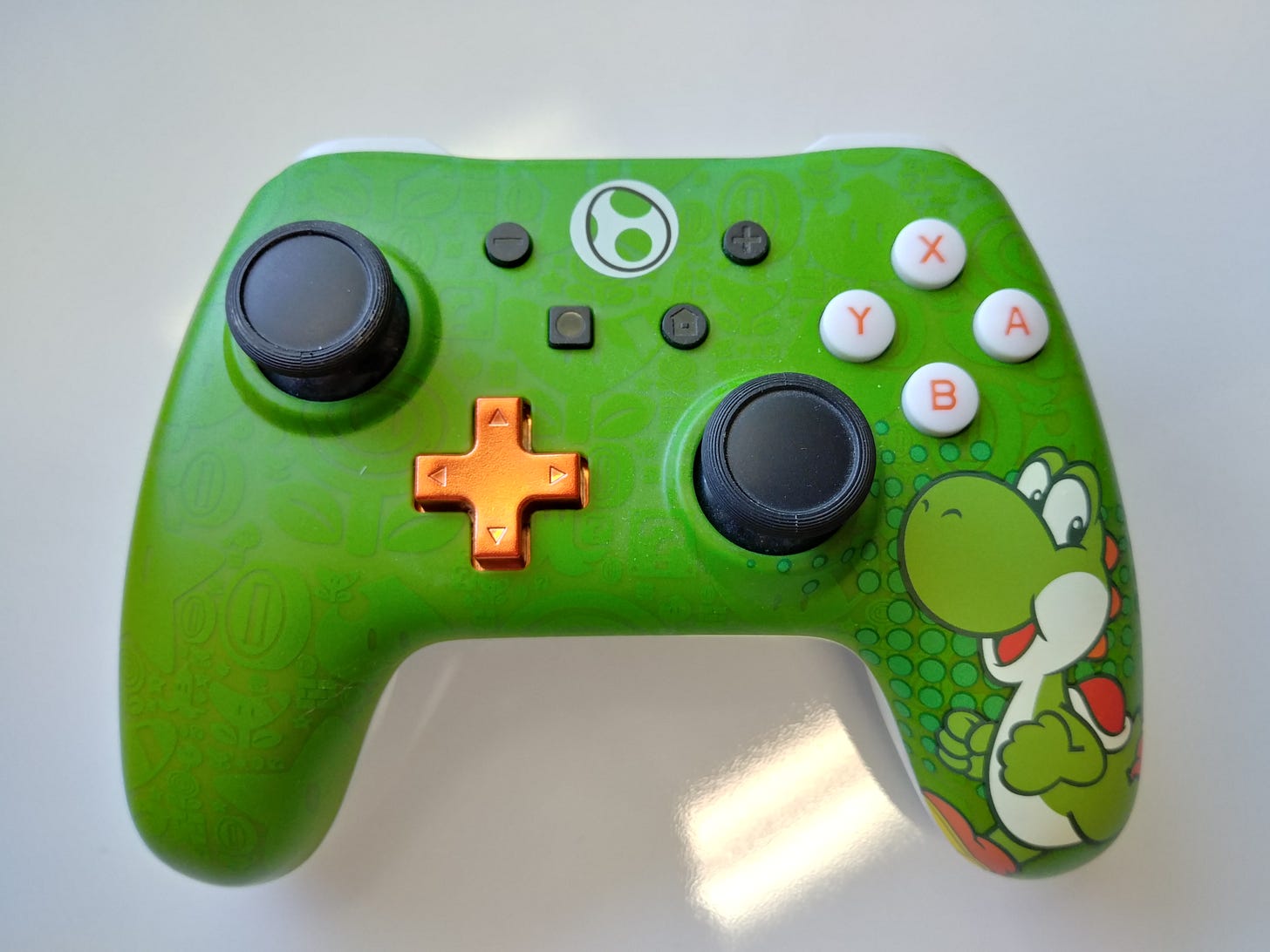 Thank you for reading this review of the PowerA Yoshi Nintendo Switch Wired Pro Controller!
If you want to buy for yourselves, be sure to check your local Wal-Mart.
If you want to see more content like this, you can subscribe to posts by email or follow me on social networks at:
Twitter @KyleRansford
Instagram KyleRansford